A look at return on a hot sector
Lately everyone seems to be talking about retailer media and what it might mean. New publishers are popping up everywhere (monetise that audience!) and big players are emerging (shopping centres, airlines and online behemoths). But is the trend towards retailer media really just a case of "everything that's old is new again"? After all, haven't super markets been placing promos for Tim Tams at the end of the aisle since the beginning of time? If so, how should we think about retailer media and how you invest to maximise returns?
Retailer media spend is up
We took a look at 2022 data for more than 50 brands using GrowthOS and discovered that the trend towards retailer media spend is strong, with average weekly spend almost doubling quarter on quarter for Q4 2022 alone. Now that may have something to do with the fact that Q4 does tend to be the strongest quarter for retail spending. Looking more closely, we could say that many brands are invested in 3-4 different retailer media channels and there were 21 different retailer networks present. We're starting to see some consolidation of spend across big players like Amazon, but many customers are playing smart with category specific networks and contextual placements.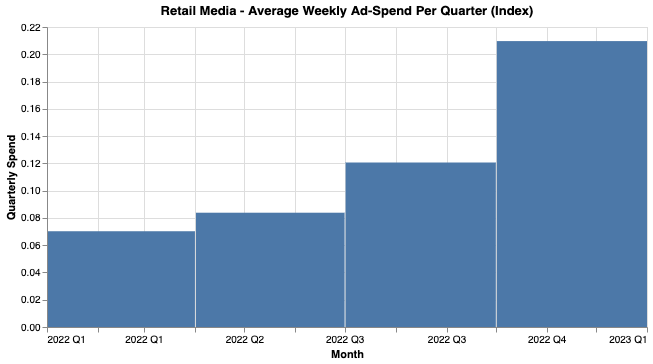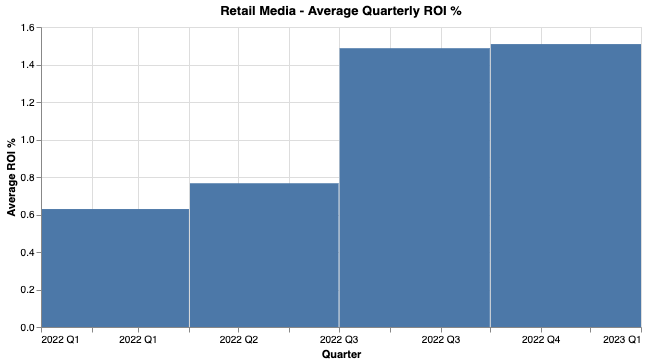 ROI on retail media can flatten quickly – especially in a hot market
Despite a much larger investment in Q4 the average ROI on this spend was…flat. What does that tell us? Well firstly that Q4 is competitive, that's a given. But also that retailer media is not necessarily going to drive a lot of incremental sales to brands that already have good share of the market. Much like search (another end of the funnel channel that has been over used in the name of gaining incremental reach), retail media will work hard for your brand if you're hoping to increase market share, if you already have great share, then it's possible to max out the ROI on retailer channels quickly.
What are you hoping to gain?
If you're hoping to increase your market share, the right investment might help drive more purchase (alongside top of funnel tactics), but if your market share is already strong and you're looking to reduce costs, then retailer media investment needs to be balanced carefully to avoid over investment. How can you tell if you're over invested? Mutinex GrowthOS can analyze your data with Saturation Curves – which will tell you whether you are over or under invested in specific channels.